Private seller
How Private Sellers can interact with Bezel Brothers
If you have a watch that you want to sell, Bezel Brothers are here to guide you through the easy three step process.
1. Register all details, verify your account and list your watch with us for FREE. You provide your own photographs and details.
2. Choose between a direct sale or auction for your watch.
3. Fees are only charged when your watch is sold and are based on the final sale price of your watch. There are no fees if your watch does not sell (See Table below)
Selling Fees
Fees are calculated on the final sale value of the watch. The fees are charged by Bezel Brothers once the sale is complete. The below table details the percentage fees for each sale category based on watch value. For example, if your watch sells for €4500, we charge a 5% fee of €225 and you receive the amount of €4225. Our rates are the lowest when comparing to our competitors and other businesses offering similar services. Our comission fee covers any transaction fees that arise from paying with credit card, visa, mastercard or paypal so our fees are clear.
Final Sale Value
Our Fees
€0-500
5%
€500-1000

5%

€1000-5000
€5000-10,000
€10,000 – 20,000
4%
€20,000 – 50,000
€50,000 – 100,000
>€100,000
Please note, that the cost of packaging, postage, and Insurance of the watch(es) is the responsibility the buyer and shall be included in the final price by the seller. The buyer is also responsible for any customs charges or taxes that may be due.
Professional Dealers
Here are the packages for Professional Dealers
Perhaps you have more than one watch to sell or you own a registered watch dealership. Both private and professional dealers can benefit from taking out a subscription with Bezel Brothers. We have multiple subscription levels depending on your requirements.
Subscriptions & Benefits Table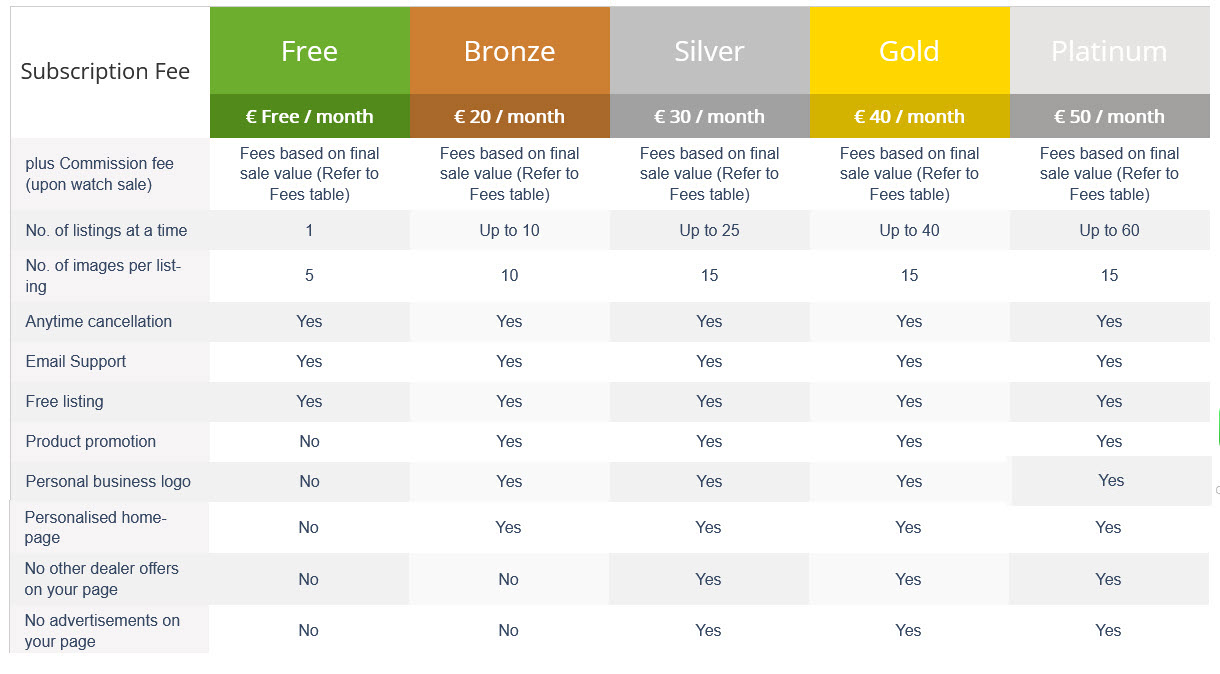 If your needs are not covered here or if you have other queries about our subscriptions and the selling process, please get in touch with us at: info@bezelbrothers.com.